Hello everyone!

Welcome to the first official Battlestar Galactica Deadlock Tournament!
This is where we will keep track of the games played and the progress of the tournament.

Since we had exactly 32 entries, we decided to welcome everyone who wanted to join and created two different brackets.

The "Artemis Group":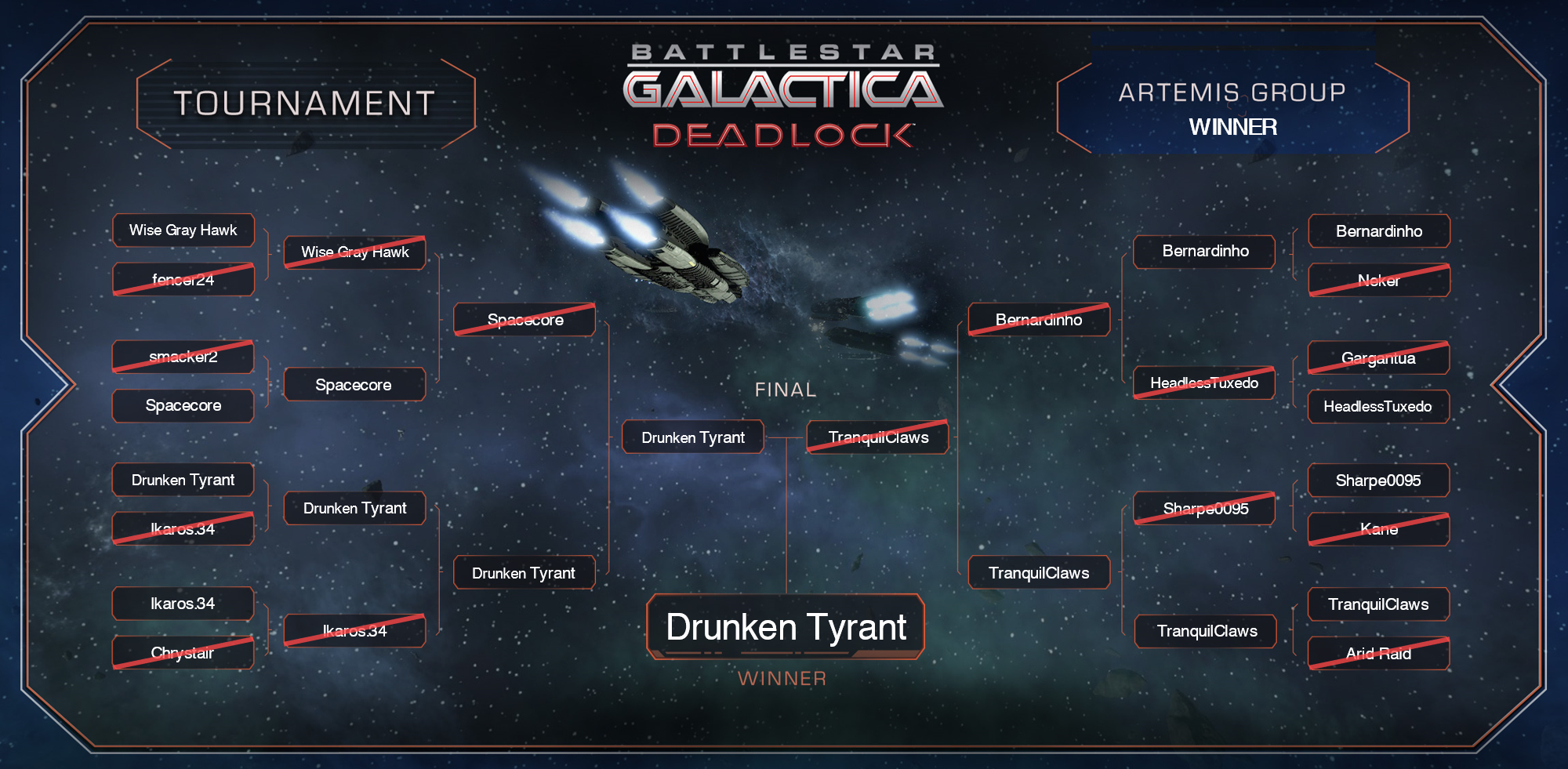 And the "Jupiter Group":



At the end of the tournament, the winner from the "Artemis Group" and the winner from the "Jupiter Group" will face each other for the "Champion" title.

RULES!
- 4000 points per fleet, 120s per turn, the map is Refinery.
- The players of each pair will have to decide when to play their game. They can also choose which faction they will play, but they don't have to let the adversary know.
- This will be a 32-players tournament. The first round will see these players fight in 16 1v1 battles. After that, the second round will take place with 8 1v1 battles. The winners will proceed to the quarter finals, in 4 1v1 battles. Then the semi-finals will see 2 1v1 battles, and the winners will fight in the finals to claim victory!
- If a player doesn't show at the agreed time of the game, his adversary will wait for 10 minutes. After that he/she will have to send a mail to our admin, then he/she wins the game. Before the game begins, both players will have to take a screenshot to prove that they are actually taking part in the game. At the end of the game, the winner will have to send a mail to our admin with a screenshot that proves their victory.
- Single elimination. You lose, you're out.
- The player that achieves victory will be rewarded with something special we can't talk about yet! The second place will also receive a consolation prize!
- Have fun!
We also want to use this chance to let you guys know that we have a Discord that you can use to meet new friends and organize your multiplayer matches. All you have to do is to click on THIS LINK!

We will update these brackets pretty often so be sure to stay tuned and follow us!